Our Process
At Creative Crew Company, we believe that your brand's story deserves to shine in their own unique light. This is why we've stepped away from the one-size-fits-all package model and embraced a fully customized approach to content creation.
Your Brand, Your Story, Our Canvas
Understanding that each business is as distinct as the people behind it, we've dedicated ourselves to crafting custom social media strategies that are as individual as you are. We don't do cookie-cutter; we do tailor-made narratives that captivate your audience and spotlight your brand's essence.
A Symphony of Creativity and Strategy
Katie and Heather will work with you to compose a social media presence that sings with creativity, engages with purpose, and grows with intent. We take the time to listen, understand, and align with your vision, ensuring that every post, reel, and tweet is not only a reflection of your brand but a direct line to the hearts and minds of your audience.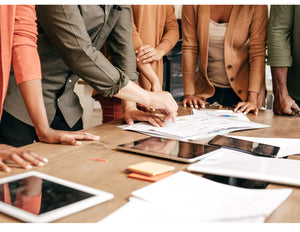 The Create Crew Experience
Imagine a place where strategy meets art, where your business's voice is amplified, and its story unfolds with every like, share, and comment. This is what we offer at Creative Crew Company — a partnership that elevates your online presence with custom-crafted content, dynamic storytelling, and results-driven strategies.
Dive into the Creative Crew experience. Reach out to us and discover how our personalized touch can transform your brand's social media narrative into a compelling, engaging, and conversion-driven conversation.
Let's Begin Your Custom Journey
We invite you to start a conversation with us. No commitment, just a chat to explore the possibilities and potential that awaits your brand. Reach out now, and let's create something remarkable together.
If you feel we are the perfect fit, we'll arrange a face-to-face Brand Discovery Meeting. This is where we dive deep, exploring every facet of your brand and business. We're passionate about understanding not just what you do, but who you are, because your brand's individuality is the cornerstone of our creative process.
We're here for you
Let's embark on this custom journey together, with your story and our creativity at the helm.